RGB Solar onderwater licht op zonne-energie amfibische licht. De zeer efficiënte zonnepaneel zonne-energie in elektrische energie en opslag in de ingebouwde batterij voor de LED. De specifieke light-control-systeem zorgt ervoor dat het licht zal worden gebracht in de overdag (genoeg licht) automatisch oplichten in de avond (weinig licht). Bovendien is het gemakkelijk te installeren, waterdicht en stofdicht. Dit product wordt veel gebruikt in de plaats van wegen, binnenplaatsen, tuinen, zwembaden, enz. Het is een perfecte licht, evenals een decoratie.
Kenmerken
• zonne-energie, energiebesparing.
• Geen AC of DC stroom nodig, eenvoudig te installeren.
• Amphibious design. Waterdicht en stofdicht, kan in het water worden gezet.
• Verstelbare hoofdsteun, kan worden aangepast aan 90 graden.
• Auto-sensor, kan het licht zichzelf automatisch opladen overdag (voldoende zonlicht) en oplichten in een donkere omgeving.
• Perfect voor zwembad, vijver, tuin, weg weg, en andere decoratie en verlichting.
bestek
Head Hoeveelheid: 3
LED Aantal: 18
LED Kleur: RGB (rood, blauw, groen)
Zonnepaneel: 2.5W (6V 420mA)
Batterij: 18650 / 3.7V 2000mAh
Oplaadtijd: opladen 8 uur durende licht meer dan 20 uur
Water proof: IP68 voor LED-licht; IP64 voor zonnepaneel
Wire Lengte: 3,2 + 1,15 + 1.15m
Operatie
1. 1.Stel het zonnepaneel vast bodemspies ontgrendelen en in de grond of op de wand met het bovenste gedeelte van de bodemspies.
2. Zorg ervoor dat het zonnepaneel wordt niet beschut tegen de zon.
3. 3. Stel de LED-lampjes, waar u ze wilt hebben, zoals de tuin vijver, waterpartij, rotstuin enz.
4. Sluit de LED-lampjes op het zonnepaneel, Om ervoor te zorgen dat soalr panel is weerbestendig (IP64), is het belangrijk om ervoor te zorgen dat de LED-verlichting kabel en het zonnepaneel Cabel zijn stevig aan elkaar geschroefd. De kabelverbinding mag niet worden ondergedompeld in water.
5. 4. Verwijder de beschermende Im op het zonnepaneel en de schakelaar op het zonnepaneel in de AAN stand.
6. Als u alle bovenstaande stappen hebt uitgevoerd, zal de LED-verlichting automatisch ingeschakeld in de schemering.
Notes
1. Zoals het opladen effect van het zonnepaneel is afhankelijk van het zonlicht, wordt het LED-lampje tijd beïnvloed door het weer, de seizoenen, de locatie, enz.
2. Het zonnepaneel zal zo lang op te laden als er zonlicht, ongeacht of de ON / OFF is ingesteld op OFF of ON. Toch zal de LED-lampjes lichten alleen in de nacht, wanneer de aan / uit schakelaar op de stand ON.
3. De top van de bodemspies kan worden vastgezet indien het zonnepaneel niet kunnen blijven rechtop.
4. De grondpen is zeer scherp en als zodanig, moet je voorzichtig zijn tijdens het gebruik. Laat kinderen niet spelen met de grondpen. Het zonnepaneel en tuinverlichting moet worden opgezet uit de buurt van kinderen `speelplaatsen.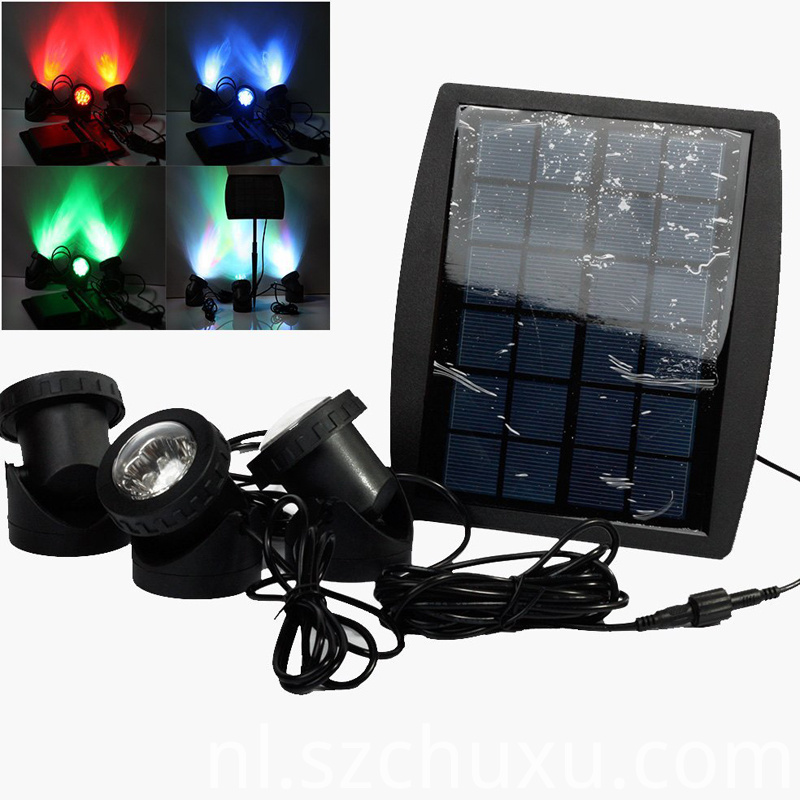 RGB Solar onderwaterlicht
Product Categorie : zonne-product > Solar onderwater LED-lamp