RGB / Cool White Solar Garden Light: er zijn 3 stuks RGB spotlight met kleurverandering die u een uitstekend visueel effect geeft. Overdag converteert het zonnepaneel zonne-energie in elektrische energie en slaat de stroom in de ingebouwde batterij op. Wanneer in de avond, zal het slimme lichtbesturingssysteem automatisch het verlichtingslicht schakelen. Het kan veel gebruikt worden voor verlichting en decoratie van wegen, binnenplaatsen, tuinen, zwembaden, vijver, enz.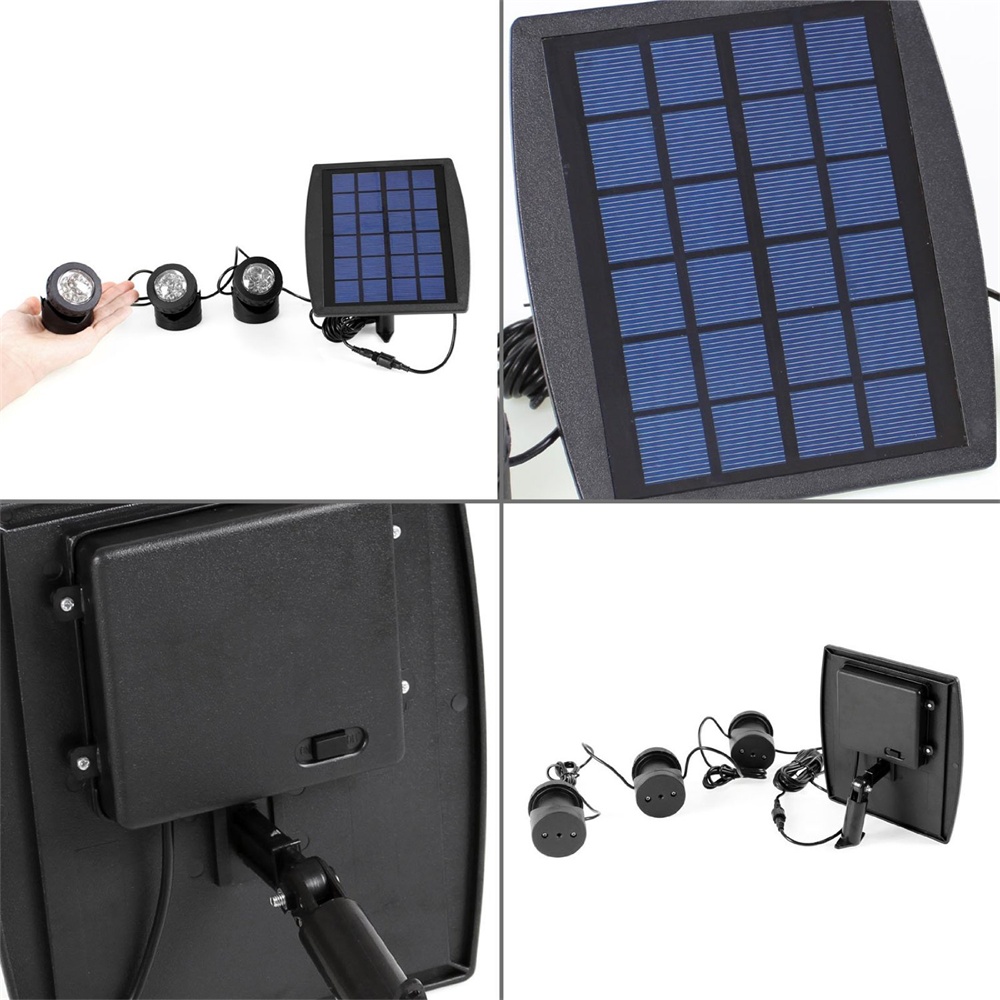 Kenmerken
• Zonne-energie, energiebesparing.
• Er is geen AC of gelijkstroom nodig, makkelijk te installeren.
• Amfibisch ontwerp. Waterdicht en stofdicht, kan in het water worden geplaatst.
• Verstelbare kop, kan worden aangepast aan 90 graden.
• Automatische sensor, het licht kan zelf automatisch opladen op dagtijd (voldoende zonlicht) en branden in een donkere omgeving.
• Perfect voor zwembad, vijver, tuin, padweg, en andere decoratie en verlichting.
Specificaties
Hoofdhoeveelheid: 3
Kleur wit
LED Aantal: 18
LED Kleur: RGB (rood, blauw, groen)
Zonnepaneel: 2,5W (6V 420mA)
Batterij: 18650 / 3.7V 2000mAh
Laadtijd: 8 uur opladen, langer dan 20 uur opladen
Waterdicht: IP68 voor LED licht; IP64 voor zonnepaneel
Draadlengte: 3.2 + 1.15 + 1.15m
Operatie
1. 1.Set het zonnepaneel op de grondspijker en plaats het in de grond of op de muur met behulp van het bovenste gedeelte van de grondspijker.
2. Zorg ervoor dat het zonnepaneel niet beschermd is tegen de zon.
3. Stel de LED-lampjes in waar u ze wilt hebben, zoals de tuinvijver, waterfunctie, rotstuin etc.
4. Sluit de LED-lampjes aan op het zonnepaneel. Om ervoor te zorgen dat het zadelpaneel weerbestendig is (IP64), is het belangrijk ervoor te zorgen dat de ledlampkabel en het zonnepaneelkabel goed vastgeschroefd zijn. De kabelverbinding mag niet in water worden ondergedompeld.
5. Verwijder de beschermende Im op het zonnepaneel en zet de schakelaar op het zonnepaneel in de ON-positie.
6. Nadat u alle bovenstaande stappen hebt afgerond, schakelen de LED-lampjes automatisch in de schemering aan.
Notities
1. Omdat het oplaad effect van het zonnepaneel afhankelijk is van het zonlicht, wordt de LED-licht tijd beïnvloed door het weer, de seizoenen, de locatie, enz.
2. Het zonnepaneel zal opladen zolang er zonlicht is, ongeacht of de AAN / UIT op OFF of ON staat. De LED-lampjes gaan echter alleen 's nachts aan als de aan / uit-schakelaar in de stand ON staat.
3. De bovenkant van de grondspijker kan worden aangescherpt als het zonnepaneel niet in de rechtopstand kan blijven.
4. De grondpiek is erg scherp en als zodanig moet u voorzichtig zijn tijdens het gebruik ervan. Laat de kinderen niet met de grondpiek spelen. Het zonnepaneel en de tuinlampen moeten worden opgesteld weg van de speeltuinen van kinderen.
Wit Zonne Onderwater licht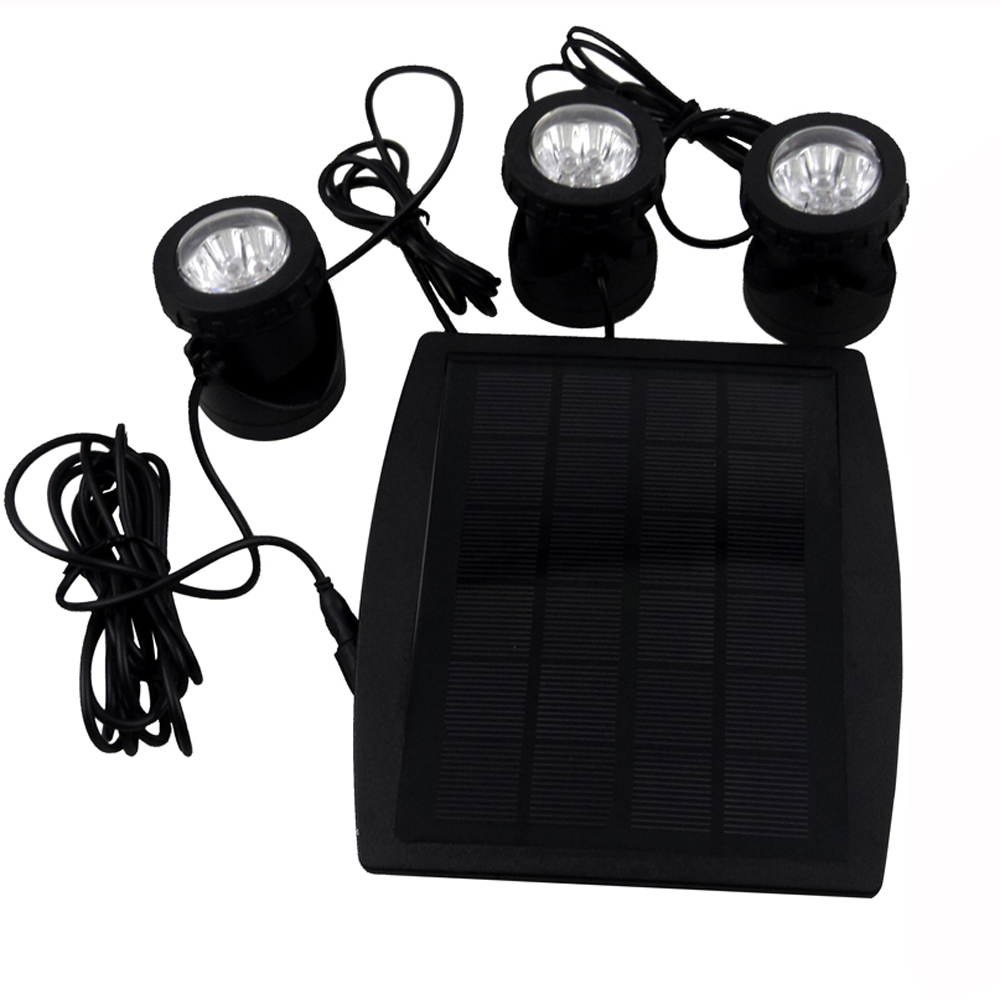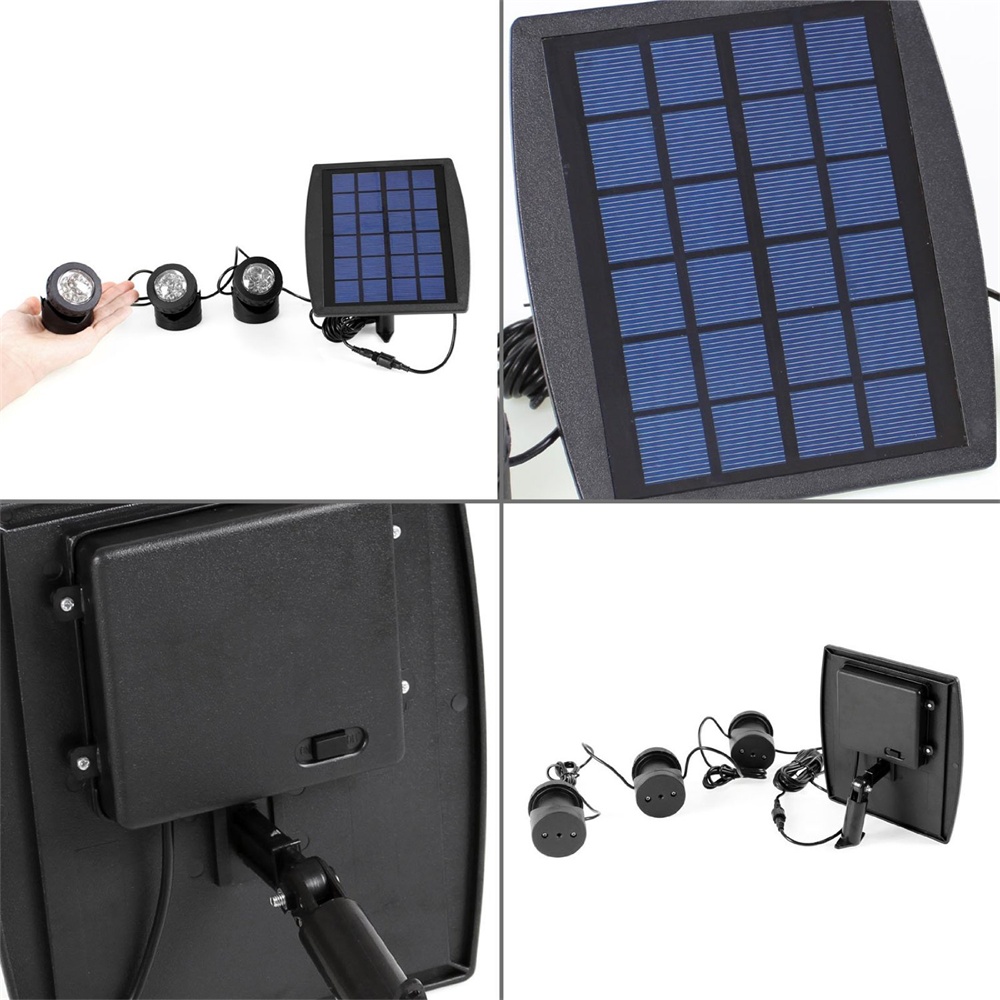 Product Categorie : zonne-product > Solar onderwater LED-lamp