Aangedreven door zonne-energie, geen AC of gelijkstroom nodig.
3 stuks RGB schijnwerper met kleurverandering die u een uitstekend visueel effect geeft.
Elk stuk schijnwerpers heeft 6 leds met ultrahelder RGB licht.
Milieuvriendelijke producten, hoge energie conversiepercentage.
Kan met de aan / uit schakelaar handmatig worden geschakeld.
Eenvoudige installatie, verstelbare lichthoek.
Het kan veel gebruikt worden voor verlichting en decoratie van wegen, binnenplaatsen, tuinen, zwembaden, vijver, enz.

Hoofdhoeveelheid: 3PCS
LED Aantal: 18 LEDS * 0,06W
LED Kleur: RGB (rood, blauw, groen)
Zonnepaneel: 2,5W (6V420mA)
Batterij: 18650 / 3.7V 2000mAh
Laadtijd: 8 uur, licht langer dan 20 uur
Waterdicht: IP68 voor LED licht;
IP65 voor zonnepaneel
Werk Temperatuur: -15 ℃ ~ + 50 ℃
Functie: Automatisch oplicht tijdens het donker wanneer ON
Schakelaar: AAN / UIT
Draadlengte: 3.2 + 1.15 + 1.15m
Certificaat: CE, ROHS, IP68, IP65, MSDS, UN38.3
Inpakken:
1 PCS / Gift box
Kartonmaat: 61,8 * 24,8 * 42
12PCS / CTN
GW / CTN: 13.906KG
CBM / CTN: 0,064CBM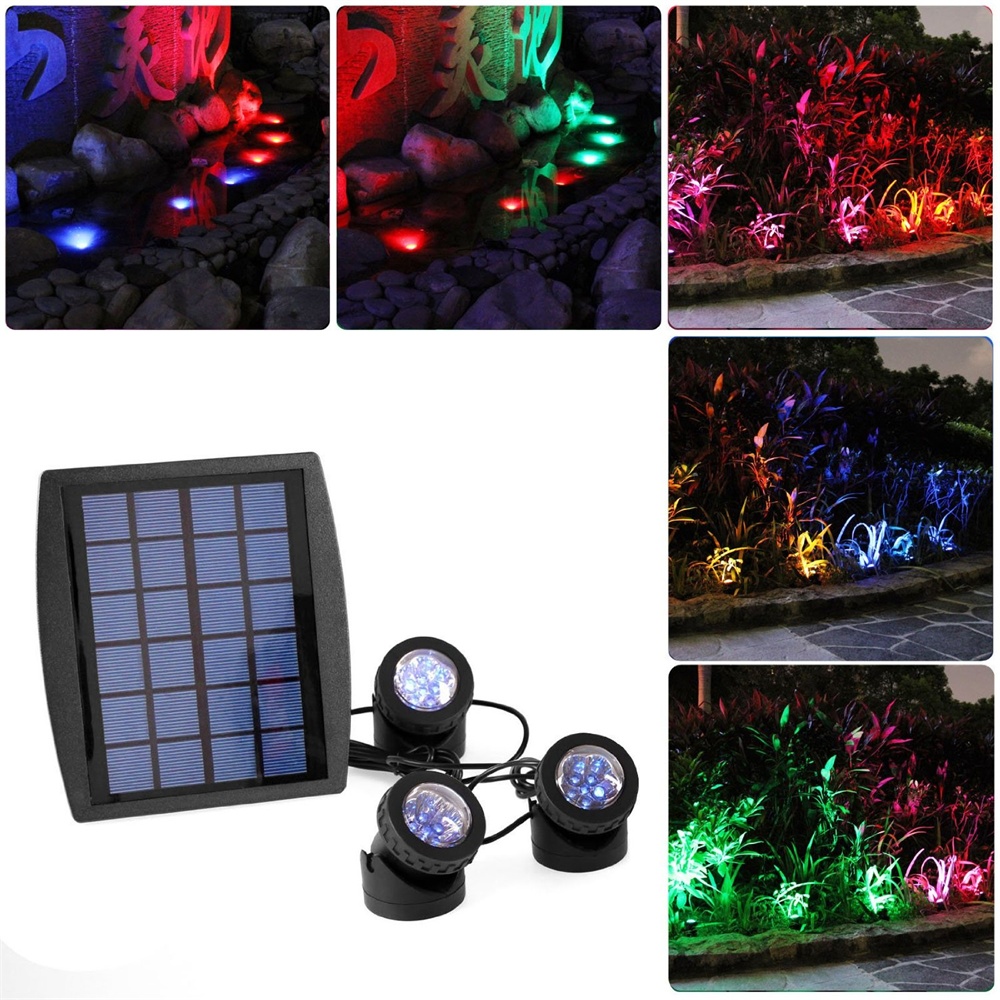 Operatie
1. Bevestig de controlebox in de grond of op de muur.
2. Zorg ervoor dat het zonnepaneel niet van de zon wordt beschut.
3. Zet de koppen op de gewenste plaatsen, zoals grassen, zwembaden, wegen, enz.
4. Scheur de beschermfolie op het zonnepaneel, zet AAN / UIT, het licht gaat werken en het wordt dagelijks opgeladen en automatisch 's avonds oplicht.
Notes
1. Omdat het oplaad effect van het zonnepaneel afhankelijk is van het zonlicht, wordt de LED-licht tijd beïnvloed door weer, seizoenen, plaatsen, enz.
2. Het is niet uit, ON / OFF zal opladen, alleen als de schakelaar aan staat, zal de LED oplichten.
3. Raak het product niet aan, om niet onomkeerbare schade te veroorzaken.
4. Het spel is zo scherp dat je voorzichtig moet zijn wanneer je het gebruikt. Laat de kinderen er niet mee spelen.
Product Categorie : zonne-product > Solar onderwater LED-lamp